home-top

OUR PEG LOOMS, YOUR HEIRLOOMS
DALES LOOMS
Welcome to our new website
These beautiful, craftsman made, peg looms will still be producing wonderful hand crafted peg loom weaves for generations to come. "Our peg looms, your heirlooms".
Standard peg looms range from 200-1200mm long, and have 3 rows enabling you to weave from a DK or finer weight up to different thicknesses of fleece.  Supplied with 6mm and 9mm wooden pegs as standard. We also offer a custom,  made to order service whereby your design concept can become a reality.
Much of our timber is North Yorkshire slow grown hardwood from the eastern side of the Pennines within 15 miles of our home. If not Yorkshire, then solidly British. Our hardwoods mostly come from storm felled trees, after all no one fells a perfectly good tree unless it's absolutely necessary.
Standard peg looms are of Ash, Beech, Elm and Oak. Occasionally we have other timbers available,
We have good stocks of all products. Most orders are posted out within 48hrs. Made to order items (bespoke, larger frames etc) currently 4-5 weeks lead time required.
MADE TO ORDER PEG LOOMS
Together we build a Peg Loom specification. Anything from 300 - 1500mm long. We could go bigger but it would be impractical in use. You specify the timber, the number of rows, the layout and the peg spacing so it is truly you own unique peg loom.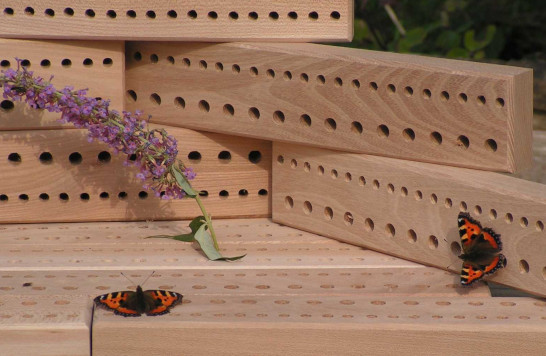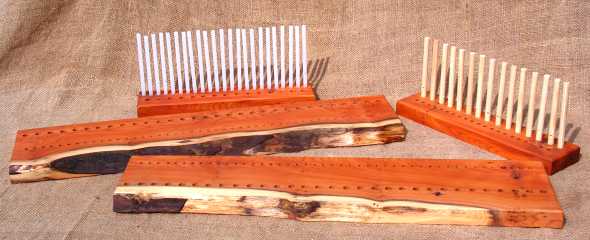 ART PET LOOMS
Sometimes we get all arty with Peg Looms These may retain the waney bark edge, an irregular edge or other features. The timber is "as found" then air dried, drilled, sanded and natural oil nourished - still as functional as the standard peg looms while also being a real "Peg Loom Art Heritage" piece to pass on to the next generation of weavers. These peg looms are only available occasionally and either for sale at shows or on line at Etsy.